Est. 1999
Needle Passion Embroidery
Machine Embroidery Designs
The Rose Delight Pack
Our versatile vintage inspired rose designs are easy to combine to create larger groupings - think a hemline or table linen border...
The Rose flower is an outline type of design - your fabric will show through these areas.

RoseD1
Size (W x H): 43 x 53mm
Stitches: 1355


RoseD2
Size (W x H): 88 x 93mm
Stitches: 3477

RoseD3L
Size (W x H): 125 x 124mm
Stitches: 6356

RoseD4L
Size (W x H): 121 x 109mm
Stitches: 5467

RoseD5
Size (W x H): 94 x 74mm
Stitches: 3825

RoseD6
Size (W x H): 76 x 62mm
Stitches: 2706


RoseD7L
Size (W x H): 122 x 47mm
Stitches: 3486

RoseD8
Size (W x H): 97 x 98mm
Stitches: 4704

RoseD9L
Size (W x H): 65 x 179mm
Stitches: 7028

RoseD10
Size (W x H): 58 x 39mm
Stitches: 1497

RoseD11
Size (W x H): 36 x 63mm
Stitches: 1477


RoseD14
Size (W x H): 49 x 58mm
Stitches: 1588

RoseD17
Size (W x H): 60 x 40mm
Stitches: 1887

>RoseD18
Size (W x H): 96 x 72mm
Stitches: 3508

RoseD20
Size (W x H): 72 x 62mm
Stitches: 3018
The Rose Delight Pack
US$ 29.95
You'll get 15 designs in ART, DST, HUS, JEF & PES formats
Instant download
Some of these designs marked with "L" require a large size hoop (5" by 7")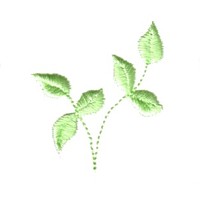 From our trunk show!
A Shantung silk baptism dress featuring designs from this collection Please click on the images for a larger view.
The bib monogram can be found here!
The Baptism cross can be found here!
Copyright 2003 Needle Passion Embroidery Limitedd
All Rights Reserved.